In this review, we're taking a closer look at iGMS, and some of the features people love about this popular vacation rental software.
Managing a vacation rental is demanding at times. There are a lot of tasks to balance, such as managing cleaning teams, taking payments, optimizing your pricing, and much more.
The way to streamline all of your tasks is to adopt a vacation rental software.
This is where iGMS comes in. iGMS is a vacation rental software designed to supercharge your short-term rental business by helping to automate and streamline how you manage your rental.
Moreover, we're excited about exploring iGMS because it's the first PMS of scale built directly to Wheelhouse.
After a handful of requests, iGMS and Wheelhouse built the integration to provide customers with the powerful revenue management features Wheelhouse offers.
If you're ready to start improving your process and earning more revenue, here is a closer look at how iGMS can help:
iGMS Review
iGMS is a vacation rental software built by professional hosts for professional hosts. It's features and design reflect the creators' experience, and they've done a great job addressing the challenges most rental hosts face.
They've created a platform that integrates with all the major booking platforms, has an intuitive and easy-to-use interface, and, most importantly, helps streamline lots of the tasks involved in managing a rental property.
iGMS is already integrated with DPGO and Pricelabs, and has recently integrated with Wheelhouse through our API to bring all of Wheelhouse's revenue management features to their users. 
If you're looking for a complete end-to-end property management solution, iGMS may be exactly what you're looking for.
5 Things People Love About iGMS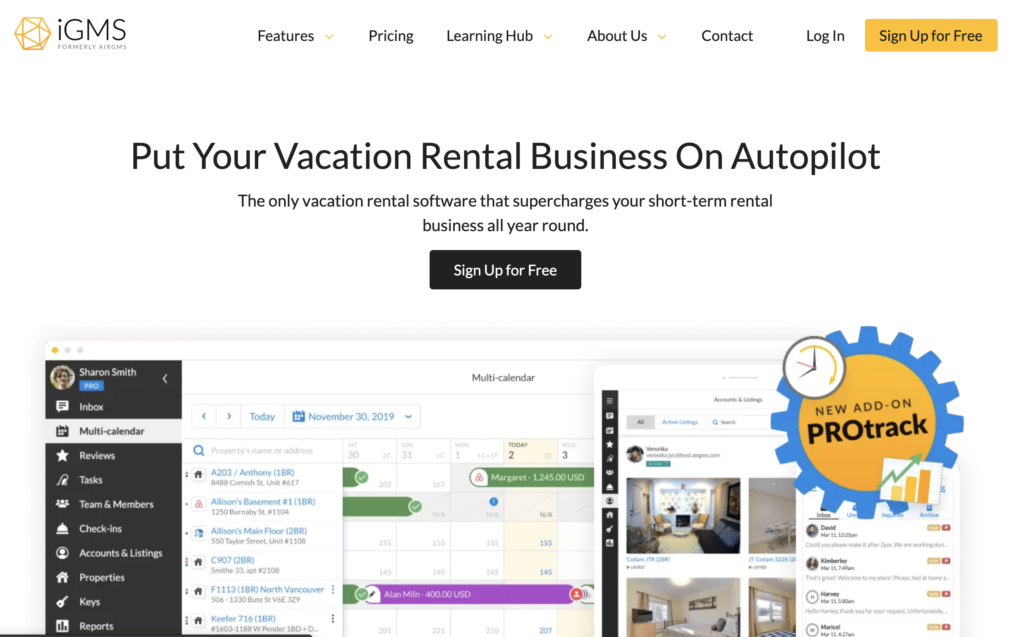 Channel Manager
iGMS's channel manager makes it easy to manage all of your routine operations through one central dashboard.
It seamlessly integrates with all the major vacation rental channels in real-time, meaning no more double bookings. They offer native support for the large booking platforms, and having communications all flow through one inbox makes your task as a host a lot easier.
Cleaning and Team Management Tools
Managing cleaning and maintenance teams plays a crucial role in getting properties guest-ready and ensuring your guests have the best possible experience.
iGMS provides a central portal where you can organize and manage your cleaning and maintenance teams. This makes it super easy to assign jobs, track work orders, make payments, and all the other tasks involved with managing teams all in one place.
Powerful Automation Tools
As a vacation rental owner, you'll be all too aware that there are many tasks involved in managing a rental property.
iGMS has put together a number of tools to help automate some of those repetitive tasks. You can syndicate your booking platforms, automate guest messaging, set up pop-up notifications, send out templates for guest reviews, and much more.
Smart Payment Processing
With iGMS's smart payment processing features, you never need to worry about not receiving payments from your guests.
Their payment processor has a native Stripe integration. Guests can pay by credit card or a combination of cash and mixed payments, and the portal gives both you and your guests the confidence that the transaction will go through securely.
Guest Communication Productivity Tracking
iGMS has developed a functionality called PROtrack, which auto-assigns guest support agents to message threads allowing you to monitor their productivity in real-time.
This encompasses a customizable ticketing system, enables you to keep track of your team's productivity, better communicate with your guests, and monitor your response time as well as requests to bookings conversion..
They say that hosts using PROtrack see a 23% increase in occupancy rate, a 33% increase in revenue, and a 42% increase in more positive reviews. Certainly an easy sell for any hosts looking for a communication solution!
In addition, iGMS team has a special offer to Wheelhouse customers. Create an iGMS account with the code WHEELHOUSE15 and receive a free setup session +15% off on your first Invoice. The offer is valid till Aug 31, 2021.