In this review, we're taking a closer look at Track Hospitality Software, as well as some of this software's most popular features and how it benefits property hosts.
As a vacation rental host, if you want to streamline your process, maximize your revenue, and scale your operations, you need to use vacation rental software.
Vacation rental software or property management software (PMS), like Track Hospitality Software, provides a range of tools to help you automate tasks and optimize your pricing strategy.
If you're serious about delivering a better guest experience, automating repetitive tasks, and making more revenue – all of which you should be interested in – we recommend checking out Track Hospitality Software.
Track Hospitality Software Review
Track Hospitality Software is part of the TravelNet Solutions brand. This software is one of TravelNet Solutions' software applications designed to help transform how the hospitality industry works.
As an all-in-one vacation management solution software, Track helps vacation rental hosts manage their complete operations.
From marketing your property to accepting guests and managing property maintenance teams. Using Track, you can manage every aspect of your property through an intuitive, easy-to-use dashboard and interface.
Here are 5 of the features property hosts love about this software:
5 Things People Love About Track Hospitality Software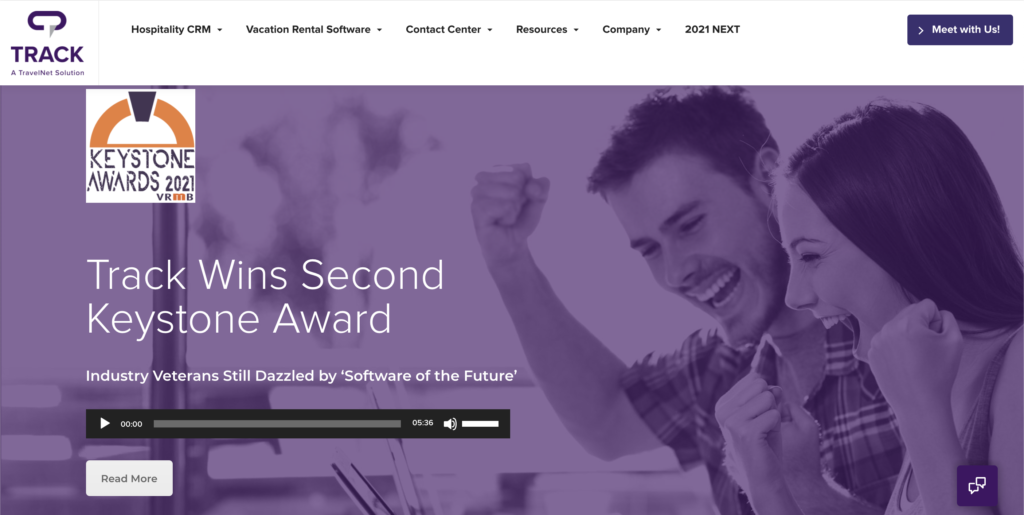 Integrated Booking Engine
Track provides two booking engine options, both of which are easy to integrate into a WordPress website.
You can use their Standard option, which is a simple widget that you place on your site, and guests can choose a date and time to book your property.
Or, you can use their Premium booking engine, which offers some advanced features such as an interactive map, enhanced landing pages, the ability to set as favorites, and more.
API Connectivity
Track allows anyone to connect to their API. This means you can connect Track PMS to your current booking engine and take advantage of their tech without replacing your current setup.
Many property managers like having API access as it enables them to build custom rules and solutions that fit better with their current setup. It does require some technical knowledge, but it's a great feature to have available if you want it.
Dedicated Guest App
Having clear and easy communication with guests plays a crucial role in ensuring your guests have a great experience and leave a positive review on the platform they used to book their stay.
Track has a custom guest app that provides your guests with everything they need to know during their stay. They can send you messages, check in and out, send payments, and more.
Trust Accounting
Track uses an enterprise-integrated trust accounting system to manage your financials. This robust reporting system provides all the tools you need to ensure your financial data is compliant and accurate.
It's been built for vacation rental businesses with added features to help with workflow automation, setting up recurring charges, managing critical tax forms, and much more.
Complete Property Care Solutions
Managing housekeeping teams is a necessary but often difficult and time-consuming aspect of managing a rental property. Track simplifies managing housekeeping and maintenance teams by providing some useful tools.
Basically, you can manage all of your maintenance teams through a central housekeeping portal. You can look at photos of work completed, automate communications, create checklists, automate vendor billing, and more.